Mar/04/2015
Overview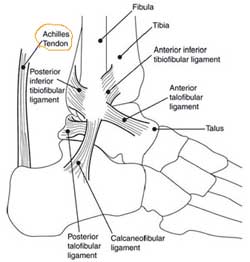 Achilles tendonitis (tendinitis), is a painful and often debilitating inflammation of the Achilles tendon than can progress into degeneration which we call Achilles Tendinosis. The Achilles tendon is the largest and strongest tendon in the body. It is located in the back of the lower leg, attaches to the heel bone (calcaneus), and connects the calf muscles to the heel bone. In most cases, Achilles tendonopathy's are overuse injuries are more common among athletes and people who train heavily, however it can also occur in people who are less active. Achilles Tendonitis can vary in severity from a mild pain in the tendon during a particular activity to more severe cases when any form of activity that puts strain on this ligament, even standing or walking, can cause pain.
Causes
Achilles tendonitis is an overuse injury. Too much too soon is the common cause of overuse injuries, however other factors can contribute to developing the condition. An increase in activity, either distance, speed or a sudden change to running up hills. As a rule of thumb distance runners should increase their mileage by no more than 10% per week. A change of footwear or training surface for example suddenly running on soft sand can cause the heel to drop lower than normal making the tendon stretch further than it is used to. Weak calf muscles can tighten or go into partial spasm which again increases the strain on the achilles tendon by shortening the muscle. Running up hills - the achilles tendon has to stretch more than normal on every stride. This is fine for a while but will mean the tendon will fatigue sooner than normal. Overpronation or feet which roll in when running can place an increased strain on the achilles tendon. As the foot rolls in (flattens) the lower leg also rotates inwards which places twisting stresses on the tendon. Wearing high heels constantly shortens the tendon and calf muscles. When exercising in flat running shoes, the tendon is stretched beyond its normal range which places an abnormal strain on the tendon.
Symptoms
The most common site of Achilles Tendonitis is at the heel to 4 inches above the heel. The diagnosis of this problem is made when the following signs are present. Pain in the Achilles tendon with up and down movement of the foot at the ankle. Pain in the Achilles tendon when you squeeze the tendon from side to side. If you are unable to move the foot either up or down, or you have intense pain when trying to walk, you may have a tear of the Achilles tendon, and you should see a doctor immediately. Also if you have severe pain in the calf, with or without discolorations of the skin, you may have a blood clot, and this is a medical emergency; see a doctor immediately. If you do not fall into either of these categories then try the following suggestions.
Diagnosis
Studies such as x-rays and MRIs are not usually needed to make the diagnosis of tendonitis. While they are not needed for diagnosis of tendonitis, x-rays may be performed to ensure there is no other problem, such as a fracture, that could be causing the symptoms of pain and swelling. X-rays may show evidence of swelling around the tendon. MRIs are also good tests identify swelling, and will show evidence of tendonitis. However, these tests are not usually needed to confirm the diagnosis; MRIs are usually only performed if there is a suspicion of another problem that could be causing the symptoms. Once the diagnosis of tendonitis is confirmed, the next step is to proceed with appropriate treatment. Treatment depends on the specific type of tendonitis. Once the specific diagnosis is confirmed, the appropriate treatment of tendonitis can be initiated.
Nonsurgical Treatment
Tendinitis usually responds well to self-care measures. But if your signs and symptoms are severe or persistent, your doctor might suggest other treatment options. If over-the-counter pain medications - such as ibuprofen (Advil, Motrin IB, others) or naproxen (Aleve) - aren't enough, your doctor might prescribe stronger medications to reduce inflammation and relieve pain. A physical therapist might suggest some of the following treatment options. Exercises. Therapists often prescribe specific stretching and strengthening exercises to promote healing and strengthening of the Achilles tendon and its supporting structures. Orthotic devices. A shoe insert or wedge that slightly elevates your heel can relieve strain on the tendon and provide a cushion that lessens the amount of force exerted on your Achilles tendon.
Surgical Treatment
Surgery for an Achilles tendon rupture can be done with a single large incision, which is called open surgery. Or it can be done with several small incisions. This is called percutaneous surgery. The differences in age and activity levels of people who get surgery can make it hard to know if Achilles tendon surgery is effective. The success of your surgery can depend on, your surgeon's experience. The type of surgery you have. How damaged the tendon is. How soon after rupture the surgery is done. How soon you start your rehab program after surgery. How well you follow your rehab program. Talk to your surgeon about his or her surgical experience. Ask about his or her success rate with the technique that would best treat your condition.
Prevention
Suggestions to reduce your risk of Achilles tendonitis include, icorporate stretching into your warm-up and cool-down routines. Maintaining an adequate level of fitness for your sport. Avoid dramatic increases in sports training. If you experience pain in your Achilles tendon, rest the area. Trying to ?work through? the pain will only make your injury worse. Wear good quality supportive shoes appropriate to your sport. If there is foot deformity or flattening, obtain orthoses. Avoid wearing high heels on a regular basis. Maintaining your foot in a ?tiptoe? position shortens your calf muscles and reduces the flexibility of your Achilles tendon. An inflexible Achilles tendon is more susceptible to injury. Maintain a normal healthy weight.